A New Technological System for VA Claims
Veterans are highly-esteemed members of the United States.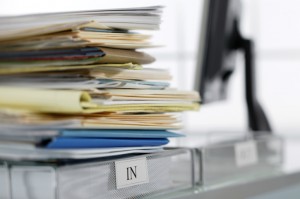 Yet many of their VA claims are disregarded and mishandled.
Over the past years VA claims have piled up uncontrollably. The issue is due to a backlog in receiving, recording, filing, handling, distributing, and managing VA claims. Many veterans go without the assistance they need due to the chaos in the Department of Veterans Affairs. An infinite pile of VA claims creates a wall around cubicles. A lot of time is spent handling VA claims manually. Tediously entering a claim, thumbing through papers (sometimes hundreds of documents per one VA claim), and diving into stacks of folders consumes the time of workers at the Department of Veterans Affairs. This process often includes mistakes made by workers inputting the criteria. Perhaps it's due to the overwhelming working environment they are placed in when handling VA claims. This lack of efficiency in the VA claims system has created a pandemonium that calls for desperate measures.
Attempts are being made to repair the VA claims disorder. A new system called the Veterans Benefits Management System is being initiated to create digital records. Digital records will immensely minimize the overall time spent handling VA claims. Workers will now be able to search for keywords in VA claims. They will also be able to easily file through VA claims and locate the necessary information. This recent article from the New York Times explains the new system for VA claims.
Pinning Hopes on a Digital Fix for Veterans' Claims

SALT LAKE CITY — One desk, clean and empty, suggested a recently retired employee. The other, piled high with brown folders wrapped in rubber bands and bristling with color-coded tabs, screamed "backlog."

Two desks, occupied by people doing the same work: processing veterans' disability claims. But on one, a new technology based on digitized records was in use. On the other, claims were being worked the traditional way: with paper files containing hundreds, even thousands of pages per veteran.

"This can be a little oppressive," said Keaton Stamper, a service representative, looking at the wall of folders lining her cubicle.

The clean desk embodies the Department of Veterans Affairs' vision for shrinking its mountainous inventory of disability compensation claims. At last count, the department had nearly 900,000 pending claims, two-thirds of which were more than 125 days old, the agency's benchmark for timeliness.

The backlog has become a major source of embarrassment for the department, causing bipartisan ire in Congress and bitter frustration among thousands of veterans who complain of long waits, unfair decisions and delayed payments.

Vowing to process all claims within 125 days by 2015, Allison A. Hickey, a retired Air Force general who is the under secretary for veterans' benefits, has outlined a "transformation" plan for the Veterans Benefits Administration that includes more intensive training and a new system of organizing claims processors into teams that specialize in handling more complex claims.

But the plan's centerpiece is new technology known as the Veterans Benefits Management System that will use digital records to speed claims processing. To comprehend why it is crucial, one must understand just how cumbersome and paper-jammed the current system can be.

"Let's face it, V.B.A. is the land technology passed by," the deputy secretary of veterans affairs, W. Scott Gould, told a Congressional committee recently.

The existing system employs several different databases — one for medical records, another for personnel files, and so on. Each requires a different login, and toggling between them can be time consuming. Moreover, mistakes in one database must be corrected in the others.

Once a claim is received, workers must input information by hand, a time-consuming and often mistake-prone step. Then a veterans service representative who processes claims must review the documents — personnel records, doctors' memos, hospital receipts — thumbing through page after page of documents in search of data that can support a disability claim.

The new system will consolidate several old ones, making it faster to find documents, the department says. Claims processors will be able to share files easier, allowing quality control agents to review work while it is under way.

Workers here say the new system is also easier on the eye, looking like the Gmail screens they commonly use, and providing useful prompts, like Turbo Tax, that reduce mistakes.

Most important, digitized documents allow processors to search key words in seconds, rather than having to thumb through paper documents.

"I'm not rolling through 18 envelopes to find the one time it mentions heart disease," Ms. Hickey said.

The system will also allow more automation for calculating benefits, based on the type and severity of a veteran's disability. Department officials say the calculator will be used only to inform claims authorizers and that final decisions will be made by people, not machines.

The new system, now being tested in Salt Lake City and three other regional offices, will be introduced into 12 more offices by the end of this year and 24 more by the end of 2013, the department says.

"We are already seeing fundamental improvements across the board," Ms. Hickey said of the department's pilot programs.

Gerald T. Manar, a former department official who now works for the Veterans of Foreign Wars, said he believed that the steps would make a difference, but cautioned that the new technology was still years away from being fully functional. Having witnessed previous campaigns to tame the backlog fall short, he is philosophical about the limits of "transformation."

"War is expensive," he said. "If we understood that, we would be more careful about sending people off to combat."
The Department of Veterans Affairs is taking a variety of measures to improve handling VA claims. Changes to the system are in place such as consolidating old VA claims in order to make navigation more efficient. Teams will be created and specially trained to handle more complex VA claims that need extra attention. These types of changes are crucial for our veterans' recovery, whatever that may be. Veterans have put their lives on the line in order to defend our freedoms. Many veterans go without the care they deserve, or they wait an excessive amount of time receiving it. This lack of concern for VA claims is an unethical practice which deserves legal attention.
If you are a veteran and need help with VA claims, Bander, Bander & Alves can assist you. We provide initial consultations at no cost or obligation for veterans seeking help with anything including VA claims. Contact us today.