Dependency and Indemnity Compensation (DIC)
Dependency and Indemnity Compensation is a monthly benefit for certain eligible survivors. Survivors are eligible to receive DIC if the deceased veteran's death happened in active duty, resulted from a service-related injury or disease, or the veteran was entitled to receive VA compensation for service-related disability that was considered to be totally disabling.
There are also requirements that the surviving spouse and child(ren) must meet to receive Dependency and Indemnity Compensation.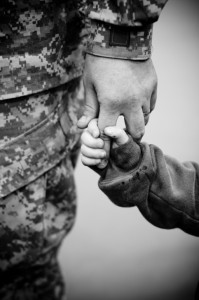 The criteria a surviving spouse must meet in order to receive Dependency and Indemnity Compensation:
Validly married the veteran before January 1, 1957, OR
Was married to a service member who died on active duty, OR
Married the veteran within 15 years of discharge from the period of military service in which the disease or injury that caused the veteran's death began or was aggravated, OR
Was married to the veteran for at least one year, OR
Had a child with the veteran, AND
Cohabited with the veteran continuously until the veteran's death or, if separated, was not at fault for the separation, AND
Is not currently remarried.
The criteria for surviving children must meet in order to receive Dependency and Indemnity Compensation:
Unmarried AND
Under age 18, or between the ages of 18 and 23 and attending school.
It is important to add that certain adult children who are determined to be helpless may still be entitled to DIC.  Also, a surviving spouse who remarries on or after December 16, 2003 and on or after turning 57 years old will be entitled to continue to receive DIC.
For the answers to your veterans death benefit questions, or for the help or representation you need for survivors' benefits, please call our veterans benefits attorneys. Our attorneys take veterans benefits cases from all over the country, and we can help you!
Dependency and Indemnity Compensation (DIC) FAQs
What does the compensation for DIC consist of?
DIC payments come in the form of monthly payments, which are fixed at a given rate. There can also be additional compensation added given the survivor's circumstances; for example, if the surviving spouse qualifies for Aid and Attendance benefits, they will receive additional compensation.
How do I apply for DIC?
You apply to receive DIC by filling out VA Form 21-534, also called an Application for Dependency and Indemnity Compensation or Death Pension as Accrued Benefits by a Surviving Spouse or Child.  Be sure to submit your application to the VA office in your area.