Understanding how VA Disability Benefits Affect SSDI
Many veterans that qualify for VA Disability benefits are under the impression that they are also eligible for Social Security Disability Insurance.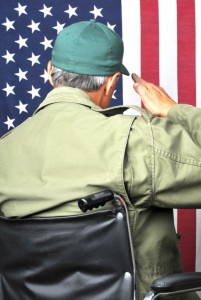 Unfortunately in many cases, VA Disability and SSDI do not work in conjunction. Many people are confused about why they are refused disability compensation from both sources.
Since VA Disability and SSDI are derived from separate entities, both have drastically different definitions of "disability" and therefore many veterans that receive VA Disability are rejected from SSDI.
The following article from Social Security Disability Help explains why veterans are able to receive VA Disability but are rejected from SSDI. The article also suggests the best manner in which to apply for SSDI and VA Disability benefits in order to optimize your coverage.
How do Military Retirement or VA Disability Benefits Affect Eligibility for Social Security Disability Insurance?

The Veteran's Administration (VA) and Social Security Administration (SSA) are completely separate organizations. Neither VA Disability benefits nor military retirement has any direct bearing on whether or not you qualify for or can receive Social Security Disability Insurance benefits. In fact, many do receive both military retirement and/or disability benefits.

Many disabled veterans are confused when they apply for SSDI and receive a letter or denial on the grounds that they are not totally disabled, especially if they are receiving 100% disability from the Veteran's Administration. The discrepancy occurs because the VA and the SSA have very different definitions and criteria for total disability.

The criteria for disability for the Social Security Administration's purposes include three qualifications. First, to be considered disabled by the SSA, you must be determined to be completely unable to perform any work which you have ever performed. Secondly, the SSA must determine that you are unable to perform any work which is available to people of your level of education and physical capabilities. Finally, your disability must be expected to last a year or longer. Alternately, you may be eligible if your disability is expected to result in your death before a year is over.

The Veteran's Administration, of course, has different definitions of disability. For VA purposes, you may be fully (100%) disabled, or only partially disabled. Your particular disability is considered based on how much it impacts your ability to perform day to day tasks and its likeliness to affect your employability. The SSA, by contrast, considers you to be totally disabled or not disabled at all. Often, when you are turned down for Social Security Disability benefits, it isn't because the SSA denies that you have a disability. This is because, from the viewpoint of the SSA, your disability does not make you completely unable to perform work of any kind.

If you are in the military, or are retired from the military and believe that you may be totally disabled, apply for Social Security Disability Insurance benefits at once, even if you are still on active duty in the service. Even though service members and veterans are entitled to expedited consideration from the SSA, the claims and appeals process can still be somewhat time consuming.

Another reason to apply right away is that the amount of back pay you are eventually entitled to will be based upon the established date your disability's onset, which is usually the date on which you first made your intent to file for Social Security Disability benefits known to the SSA. The sooner you apply for disability benefits, the more back pay you may be entitled to if your disability claim is ultimately approved.

If you receive a denial letter regarding your Social Security Disability Insurance benefits, you have the right to appeal the decision. The appeals process has several levels, including a request for redetermination, a hearing before an Administrative Law Judge, and an Appeals Council review. You may also continue your case in the Federal Court system if you have exhausted your recourses within the SSA.

Your best bet, as a veteran or service member, is to find a Social Security lawyer who has experience dealing with both SSDI and VA Disability claims. While you are allowed to represent yourself at all levels of the appeals process, your chances of eventually winning your battle for SSDI benefits are much better when you are represented by someone who is experienced with the system.

While VA Disability and military retirement does not affect your ability to collect SSDI, they may affect your ability to collect SSI. SSI is needs based and has stringent income limits, which your VA Disability or retirement may exceed.
This article highlights the importance of applying for SSDI as soon as possible for a number of reasons. Firstly, the claims process is infamous for its state of backlog and it often takes a long time for them to finish processing your claim. Secondly, the sooner that you apply for disability benefits, the more back pay that you may receive if you are approved. And finally, if you apply for SSDI before you are accepted to receive VA Disability, then you do not run the risk of losing VA Disability because of the benefits of SSDI, but SSDI will most likely refuse someone who is currently receiving VA Disability.
It is always in your best interest to employ a lawyer to represent you if you are struggling to be accepted for either VA Disability or SSDI. While it is possible to go through the SSDI and VA Disability claims process on your own, a knowledgeable lawyer will help increase the chances of approval.
The lawyers at Bander, Bander & Alves specialize in Veterans Assistance and would be happy to help you receive the monetary assistance that you require. Contact us to learn more.